Loughcrew Equinox - March 2008

Staff from the Office of Public Works were at Cairn T on Carnbane East, Loughcrew for the Equinox Illumination on the mornings of March 20th, March 21st and March 22nd 2008.

Unfortunately for the people who went on March 20th the sunrise was totally obscured. On the 21st the rising sun occasionally broke through the clouds, Ken Williams has posted photos from the 21st at ShadowsandStone.com

The best morning was the 22nd which was a near perfect sunrise, when the sun rose above a little low cloud, Cairn T was brilliantly illuminated, rewarding the hardy souls that braved the arctic winds and sub zero temperatures.


The chamber in Cairn T is quite small so only 5 or 6 people can be inside at a time. The rest of the crowd waited patiently outside, making sure not to spoil the illumination inside by obstructing the sun at the entrance of the Cairn.



Sun in the passage of Cairn T.

The Equinox Sunrise illuminating the chamber of Loughcrew Cairn T.



After the sun has retreated from the chamber, this photo from MythicalIreland.com illustrates the beautiful afterglow effect in which significant reflected sunlight still reaches the rear stone.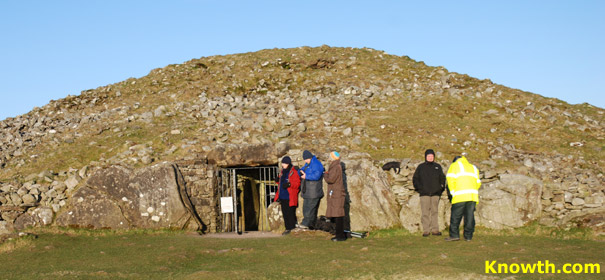 By 7:20am the sun had retreated from the passage and chamber and I am about to join my fellow enthusiasts for an organic breakfast at the nearby Loughcrew Gardens.

Video of Loughcrew Spring Equinox