Loughcrew Spring Equinox 2005

Sunrise at Loughcrew, 6:25am March 23rd 2005


Due to adverse weather conditions on the 20th, 21st and 22nd of March there was no spring equinox sunrise to illuminate the chamber of Cairn T. The sunrise on the March 23rd looked like it might be hampered by mist, thankfully it turned out to be a perfect sunrise to illuminate the backstone of the chamber in Cairn T.

6:30am - The sunbeam in the chamber of Cairn T before it reaches the backstone.





6:40am - The sunbeam creeps onto the backstone of Cairn T.





6:50am - The sunbeam moves across the backstone. The dark patch at the bottom left of the image is a shadow from part of the iron gate surround at the entrance to the cairn.





6:53am - the most impressive stage of the illumination on the backstone.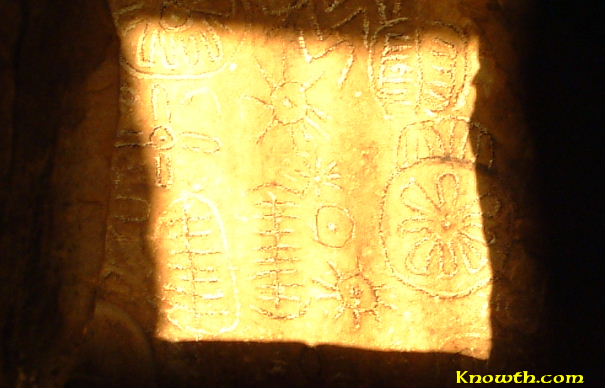 6:58am - the sunbeam moves across and down on the backstone.





7:06am - the sunbeam continues its journey across and down the backstone





7:12am - beam of equinox sunlight illuminating the bottom right corner of the backstone.



Video of Spring Equinox illumination