Knowth Mace Head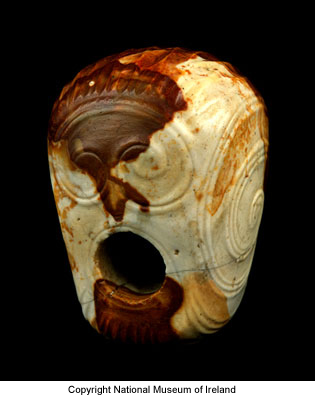 Ceremonial carved flint Mace Head found in the right-hand recess of the eastern tomb chamber. It would originally have been mounted on a wooden handle through the large hole. This is undoubtedly one of the finest works of art created by the passage tomb builders of western Europe.
This image is about the size of the actual mace head which is only 80mm long.
The Mace Head featured in The Irish Times
'A history of Ireland in 100 objects'
series.
Photograph by Eddie Kelly from the Irish Times on 7th September 1982 -
Professor George Eogan
(left), is showing the Taoiseach of the time, Mr Haughey (right) the recently discovered Knowth Mace Head. Also in the photograph is Professor Brendan O'Riordan the director of the National Museum at the time.
More ...
Replica of the decorated flint
macehead
(7.9 cm in length; 324.5 gm weight) found at the entrance to the right-hand recess of the eastern passage tomb, Knowth Site 1.
Boyne Valley Private Day Tour

Immerse yourself in the rich heritage and culture of the Boyne Valley with our full-day private tours. Visit Newgrange World Heritage site, explore the Hill of Slane, where Saint Patrick famously lit the Paschal fire. Discover the Hill of Tara, the ancient seat of power for the High Kings of Ireland.
Book Now