The Princes of Ireland - The Dublin Saga
The Princes of Ireland
by Edward Rutherfurd is an epic story of love and battle, family life and political intrigue in Ireland over the course of eleven centuries.
The Princes of Ireland
weaves impeccable historical research and mesmerizing storytelling in capturing the essence of a place and its people.
The saga
begins in tribal, pre-Christian Ireland during the reign of the fierce and mighty High Kings at
Tara
, with the tale of two lovers, the princely Conall and the ravishing Deirdre, whose travails echo the ancient Celtic legend of Cuchulainn. From that stirring beginning, Rutherfurd takes the reader on a powerfully imagined journey through the centuries. Through the interlocking stories of a memorable cast of characters - druids and chieftains, monks and smugglers, noblewomen and farmwives, merchants and mercenaries, rebels and cowards - we see Ireland through the lens of Dublin, its greatest city.
The Princes of Ireland: The Dublin Saga
was also published as
Dublin: Foundation
.
While vividly and movingly conveying the passions and struggles that shaped the character of Dublin, Rutherfurd portrays the major events in Irish history: The tribal culture of pagan Ireland; the mission of St. Patrick; the coming of the Vikings and the founding of Dublin; the glories of the great nearby monastery of Glendalough and the making of treasures like the Book of Kells; the extraordinary career of Brian Boru; the trickery of Henry II, which gave England its first foothold in Medieval Ireland. The stage is then set for th great conflict between the English kings and the princes of Ireland, and the disastrous Irish invasion of England, which incurred the wrath of Henry VIII and where this book, the first of the two part Dublin Saga, draws to a close, as the path of Irish history takes a dramatic and irrevocable turn.
The Rebels of Ireland - The Dublin Saga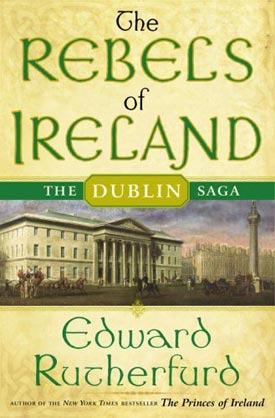 The Princes of Ireland - The Dublin Saga
is the first of two books, the second part of the story is told in
The Rebels of Ireland - The Dublin Saga
published in February 2006.
This second volume of The Dublin Saga begins after the Irish defeat at the
Battle of the Boyne
in 1690 and continues through the period of French aggression, the disastrous potato famine, and massive migration to the United States, and the golden age of contemporary Irish literature. Fictional families tell the story of this eventful period in Irish history in this lengthy and memorable work of historical fiction.
Google Books Listing.
Boyne Valley Private Day Tours

Pick up and return to your accommodation or cruise ship. Suggested day tour: Newgrange World Heritage site, 10th century High Crosses at Monasterboice, Hill of Tara the seat of the High Kings of Ireland and the Hill of Slane where St. Patrick let a Paschal fire in 433
More ...